News
Tuesday, 20 September 2022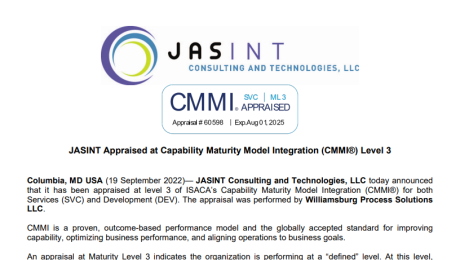 Columbia, MD USA (19 September 2022) — JASINT Consulting and Technologies, LLC today announced that it has been appraised at level 3 of ISACA's Capability Maturity Model Integration (CMMI®) for both Services (SVC) and Development (DEV). The appraisal was performed by Williamsburg Process Solutions
LLC.
CMMI is a proven, outcome-based performance model and the globally accepted standard for improving capability, optimizing business performance, and aligning operations to business goals. An appraisal at Maturity Level 3 indicates the organization is performing at a "defined" level. At this level, processes are well characterized and understood, and are described in standards, procedures, tools, and methods. The organization's set of standard processes, which is the basis for Maturity Level 3, is established and improved over time.
This appraisal mark highlights the importance the organization places on the quality of work we produce. We are proud that we were fully compliant in all areas, with no identified weaknesses, defaults, or negative findings. This appraisal helps continue to set JASINT Consulting and Technologies, LLC apart and shows our continued dedication and value we provide to our customers. Our Operations and Corporate Services teams came together to illustrate how JASINT performed against the model – putting in the hard work ahead of time and demonstrating at each interview how ingrained our practices, processes, and policies are to our organization. " We are very proud with not only achieving this goal, but with how well our assessment went. We now look forward to leveraging our expertise, lessons learned and experience to elevate not only our corporate performance, but also the operational efficiency of our customers!" says Rodney Williams, CEO of JASINT.
For more information about CMMI performance solutions, visit www.isaca.org/enterprise/cmmi-performance–solutions.
JASINT Consulting and Technologies, LLC is an 8a/SDVOSB certified small business headquartered in
Columbia, MD. Since 2007, JASINT has provided expertise Systems Engineering, Cybersecurity Engineering
and Operations Management.
JASINT Contacts:
JASINT Consulting and Technologies, LLC
9730 Patuxent Woods, Suite 500
Columbia, Maryland 21046
JASINT.com
443.813.2854
alicavoli@jasint.com
rwilliams@jasint.com